Haywood Sports Medicine donates AEDs to Tuscola High School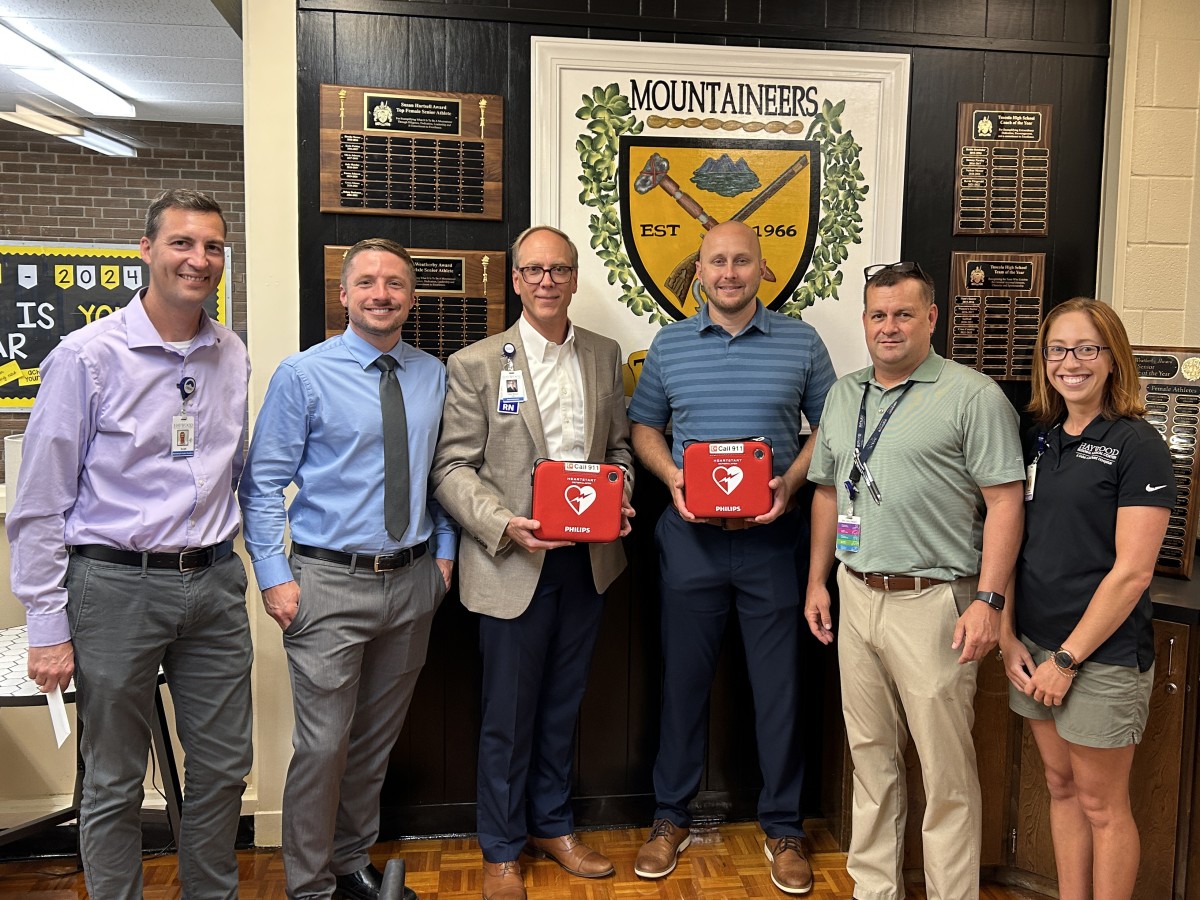 On Tuesday, August 22, Haywood Sports Medicine donated two Automatic External Defibrillators (AEDs) to Tuscola High School to assist them in emergency preparedness. The AEDs will be used, if needed, during sporting events and practices.
An AED is a portable defibrillator, which is used to shock the heart back into a normal rhythm, that can save the life of a student athlete, coach or spectator who collapses during practice or a game due to a heart rhythm disorder that causes sudden cardiac arrest. The AED is designed to be automated so that it can be used by those without substantial medical training. The AED can check a person's heart rhythm through the pads, recognize a rhythm that requires a shock, and advise the rescuer when a shock is needed, using clear and concise voice prompts on placing the pads and when to step away before the shock is delivered.
"Haywood County Schools and Tuscola High School are extremely appreciative of this generous donation," shared Graham Haynes, Assistant Superintendent, Haywood County Schools. "While we currently have AEDs available, this donation will allow us to have AEDs stationed permanently at two of our athletic facilities. This will allow us to better serve our students and communities by being able to have the peace of mind that in the event of an emergency, there are AEDs within reach. We value our partnership with Haywood Sports Medicine and look forward to continuing to work together to ensure our students are safe and well taken care of at all times."
Haywood Sports Medicine provides athletic trainers and support at no cost to Haywood County Schools and is the official trainer for Tuscola High School, Bethel Middle School, Canton Middle School, and Waynesville Middle School.
About Haywood Regional Medical Center
Haywood Regional Medical Center is committed to providing the highest quality care possible, along with the expertise and technology you expect at larger hospitals, all conveniently close to home. We are supported by Duke University Health System's world-renowned leadership in clinical excellence and quality care and LifePoint Health's extensive resources, knowledge and experience in operating community hospitals.
Read All Posts