Haywood Regional Medical Center Names Tara Carter, RN, and Chrissy Crump, RN, as Recipients of The DAISY Award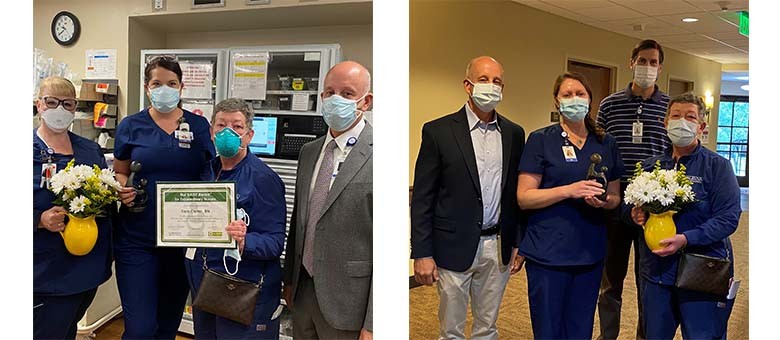 Haywood Regional Medical Center (HRMC) recently presented The DAISY Award for Extraordinary Nurses ® for this quarter's winners. The award is part of the DAISY Foundation's mission to recognize the extraordinary, compassionate nursing care they provide patients and families every day. The DAISY Award recipients for this round of nominations is Tara Carter, RN (above left), of the Intensive Care Unit (ICU) and Chrissy Crump, RN (above right), Infusion Therapy.
This quarter's first DAISY Award for Extraordinary Nurses was awarded to Tara Carter, RN, who works in the ICU. Her nominator shared: "Tara is the nurse I remember the most, as she was compassionate and instructed me and how to get better… she asked me to think about what I would be doing if I was at home. I told her I'd probably be having a cup of tea and sitting on my porch. Tara then made me a cup of tea and told me to sit up in the chair and think about being at home on my porch… I believe she deserves this award I believe she went beyond the call of duty especially with a simple cup of tea."
Then, this quarter's second award went to Chrissy Crump, RN, who works in Infusion Therapy. Her nominator shared, "Chrissy is by far one of the best RNs I have ever seen. She goes above and beyond for every patient and in everything she does. She has recently taken on seeing Covid + patients in our department [providing Monoclonal Antibody Therapy] …Her first priority is our patients. She is truly amazing and deserves to win this award."
"Tara and Chrissy both show compassion and personalized approaches to their patients, which shows how deserving they are of this quarter's DAISY award. We're grateful each are a part of Haywood Regional Medical Center," shared Susan Mahoney, HRMC Chief Nursing Officer.
The DAISY Foundation is a not-for-profit organization, established in memory of J. Patrick Barnes, by members of his family. Patrick died at the age of 33 in late 1999 from complications of Idiopathic Thrombocytopenic Purpura (ITP), a little known but not uncommon auto-immune disease. (DAISY is an acronym for Diseases Attacking the Immune System.) The care Patrick and his family received from nurses while he was ill inspired this unique means of thanking nurses for making a profound difference in the lives of their patients and patient families.
Nurses may be nominated by patients, families, and colleagues. The award recipient is chosen by a committee at HRMC to receive The DAISY Award. Awards are presented throughout the year at celebrations attended by the Honoree's colleagues, patients, and visitors. More information is available at http://DAISYfoundation.org
Read All Posts