Dr. Allison Johnson Named Preceptor of the Year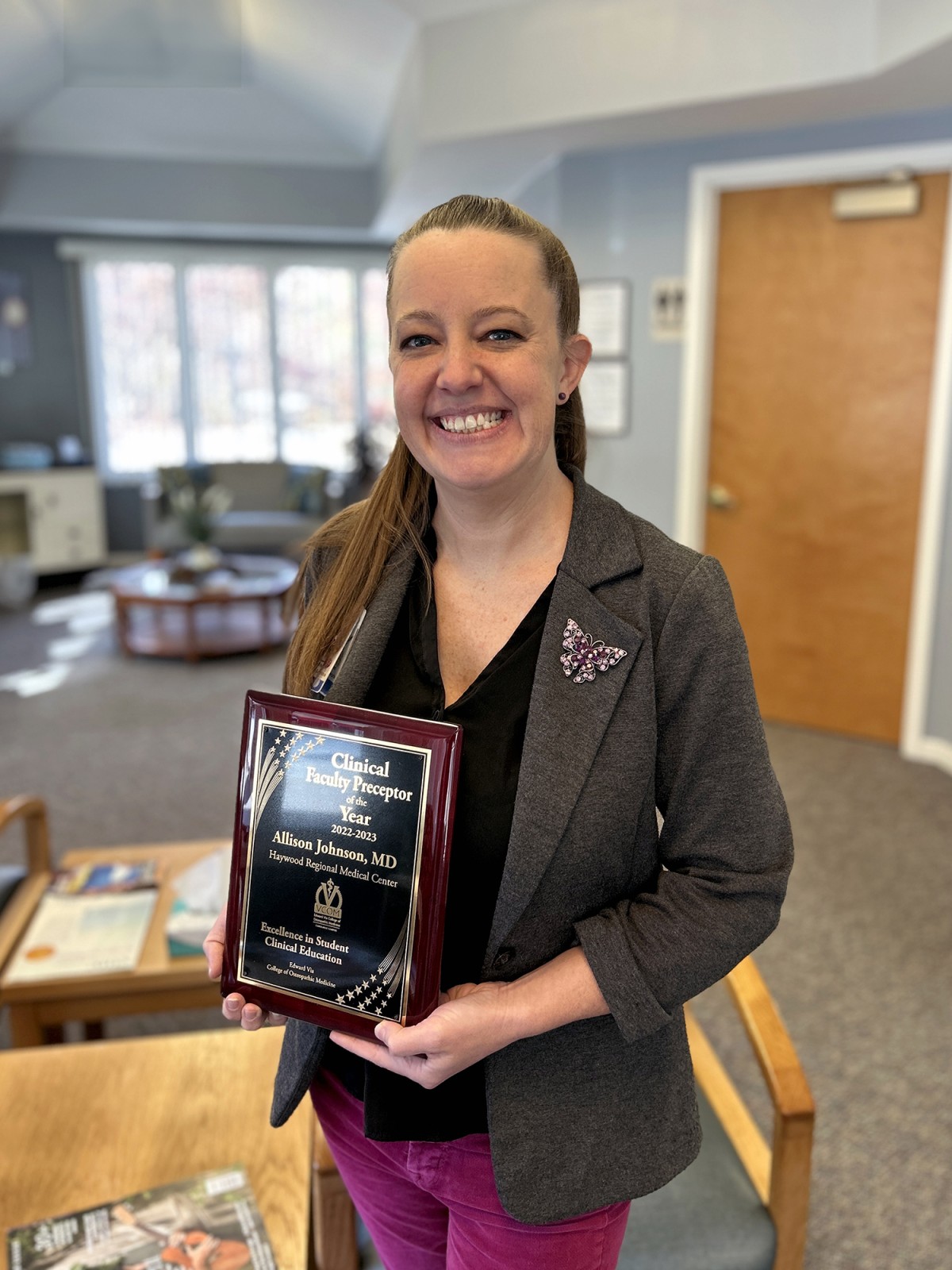 Clyde, NC (November 13, 2023) – Haywood Regional Medical Center is proud to announce that Dr. Allison Johnson was named Preceptor of the Year by the Virginia College of Osteopathic Medicine (VCOM).
Preceptors are practicing physicians who are integral to the clinical education and training of medical students. They provide the experiential portion of the curriculum by supervising student physicians as they acquire clinical medical knowledge by helping to care for real patients—in both the inpatient and outpatient settings.
This award is voted on by medical students based on which preceptor they believe was the most impactful to their training. "It's an honor to be chosen by this group of students and know that I am making a difference for the future of the medical field," said Dr. Johnson. "These experiences in clinical settings are vitally important to their growth and I'm so pleased to have the opportunity to share my knowledge."
Chris Brown, CEO shared that it can be very difficult to open your practice to medical students. "Teaching is a huge commitment of time, and there's also the added pressure of educating the future of medicine. However, it comes with a sense of duty and responsibility to give back to the profession that has been so good to us."
Brown shares that medical students are very good judges of character as they soak up knowledge in a real-world setting. "The fact that she has been honored in this way by medical students from a variety of backgrounds and experiences is a huge testament to the way Dr. Johnson approaches medicine and treats her patients."
Dr. Johnson is board certified by the American Board of Surgery and practices at Haywood Surgical Associates.
About Haywood Regional Medical Center
Haywood Regional Medical Center is committed to providing the highest quality care possible, along with the expertise and technology you expect at larger hospitals, all conveniently close to home. We are supported by Duke University Health System's world-renowned leadership in clinical excellence and quality care and LifePoint Health's extensive resources, knowledge and experience in operating community hospitals.
###
Read All Posts