Haywood Regional Medical Center Names 2022 Mercy Award Winner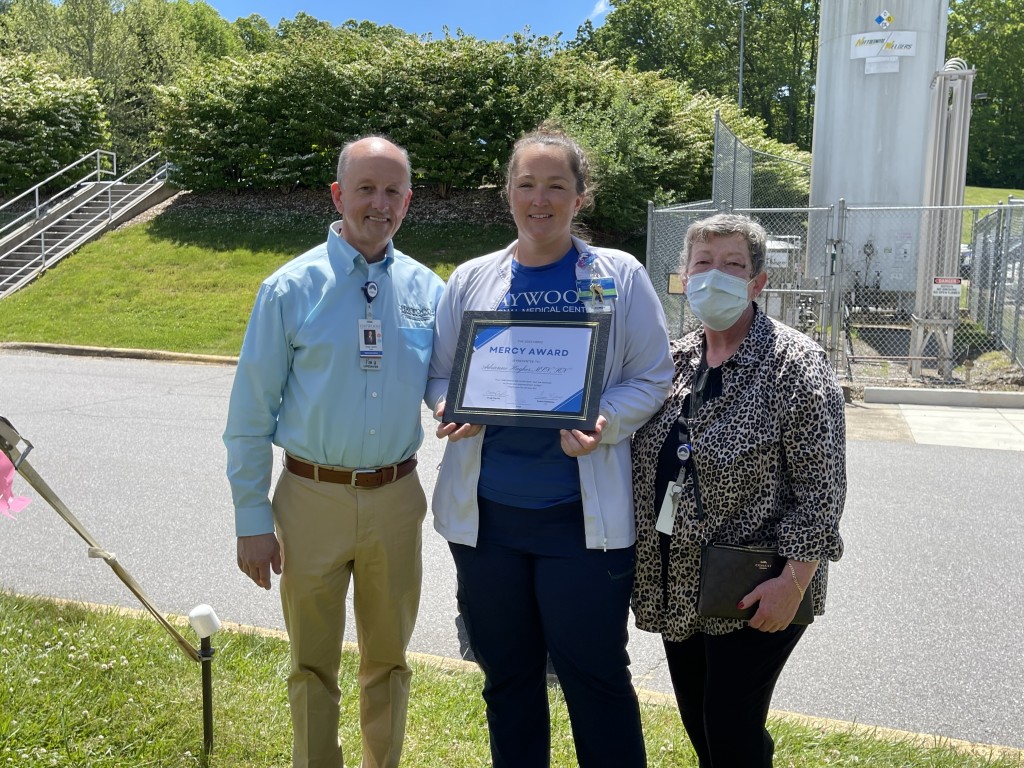 Haywood Regional Medical Center (HRMC) recently announced that Adrienne Hughes, MSN, RN, has been recognized as the facility's 2022 Mercy Award winner. The Mercy Award recognizes one employee from each of LifePoint Health's facilities who profoundly touches the lives of others and best represents the spirit and values on which the company was founded.
The Mercy Award is an annual recognition program established in 2002 to honor the life and contributions of Scott Mercy, LifePoint's founding chairman and chief executive officer. The award is considered the highest honor a LifePoint employee can receive.
"At Haywood Regional Medical Center, we share LifePoint's commitment to making communities healthier, and we recognize this is supported by the good work and service of our employees on and off the job," said Greg Caples, CEO of HRMC. "We are extremely proud to recognize Adrienne Hughes for her efforts on behalf of our patients and our community. She goes above and beyond each and every day to ensure that every person she encounters receives the highest level of care and compassion."
Hughes has been an employee of HRMC for 15 years, and during that time she has worked her way up from an ER staff nurse to Nurse Manager and now to the Emergency Department Director. "She has done so by demonstrating her knowledge of the Emergency Department, her ability to form positive working relationships internally and externally, and through her strong work ethic. She is known by her staff as a leader who is always willing and able to roll up her sleeves and fill gaps as needed," Caples shared.
During her time at HRMC, Adrienne has furthered her education by achieving two master's degrees: A Master of Nursing Leadership for Western Governor's University and a Master in FNP at Maryville University.
In the community, Hughes is active in helping others both publicly and privately, including being involved in community Christmas activities with staff and representing the hospital in fund raising events with Big Brothers Big Sisters of Haywood. Caples said, "Adrienne represents the values embodied by the Mercy Award and I am proud to have her represent Haywood Regional Medical Center as our 2022 recipient."
Each hospital winner, including Hughes, will be considered for LifePoint's 2022 companywide Mercy Award. The companywide winner will be announced this summer and honored during a ceremony in Nashville, Tenn., in August, to which all facility winners are invited to attend.
Read All Posts